WayneRides
Warriors Ride Free
The Wayne State campus is well served by transit, and Wayne State subsidizes 4-hour Dart and annual MoGo passes for all part- and full-time students and employees, allowing them to ride DDOT and SMART buses, the QLine streetcar and MoGo bikes for free!
Purchase free Dart passes             Sign up for a free MoGo pass
---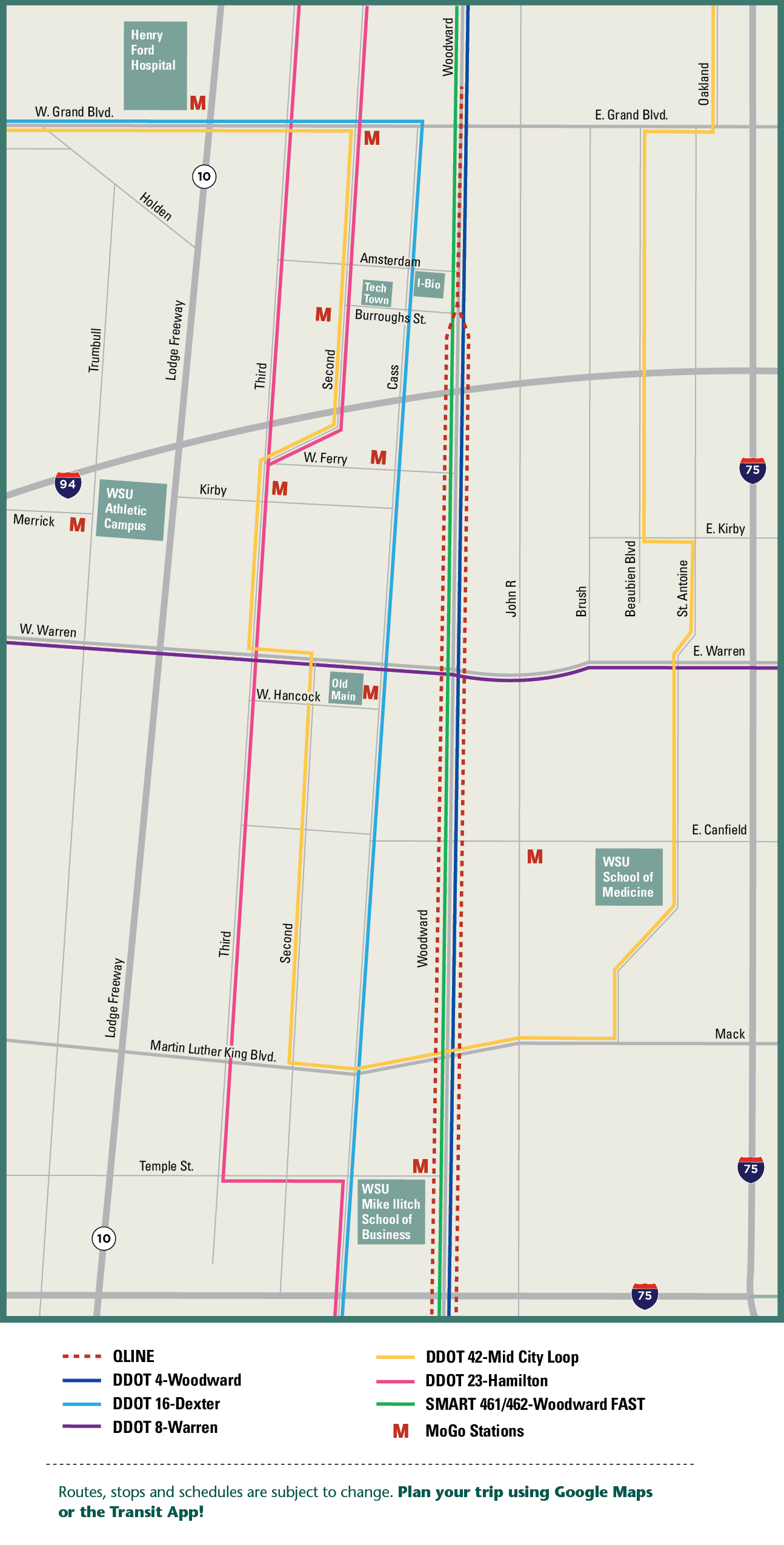 You will need to complete the Dart pass request form/process each semester you wish to ride for free. If you do not have a smart phone, you can ride still for free by picking up a 31-day Dart pass from The W Food Pantry and Wardrobe.
An annual MoGo pass will allow you to take an unlimited number of 60-minute trips for one year. For trips that extend beyond 60 minutes, users pay $0.25 for each additional minute (so, a 60-minute trip is free, but a 70-minute trip would cost you $2.50) until the bike is securely locked in any MoGo station.
---
Transportation Options
Metro Detroit has seen major advances in mobility in recent years with the introduction of the QLINE, MoGo and SMART FAST limited-stop bus routes. In 2019, DDOT and SMART launched a unified payment system, Dart, which represented another major step forward. Dart passes can be used interchangeably on DDOT and SMART buses and the QLINE streetcar.
Wayne State has been an active contributor and partner in expanding mobility options for the campus community through partnerships with Zipcar, MoGo and the QLINE. These partnerships are part of the university's ongoing efforts to create a 24/7 campus that is active, safe and easy to navigate.
DDOT and SMART Buses
The Detroit Department of Transportation (DDOT) operates buses within the city of Detroit—including frequent north-south service along both Woodward and Cass, which makes getting to and from neighborhoods including Downtown, New Center, Boston Edison and Palmer Woods quick and easy. Both the Woodward (4-Woodward) and Cass (16-Dexter) routes are also useful for getting around campus. The Woodward bus picks up outside the Mike Ilitch School of Business (on Woodward at Sproat). Travel time to Old Main and Main Campus is approximately 15 minutes.
SMART operates bus service in Oakland, Macomb and Wayne counties with local travel within and between suburban cities as well as service into downtown Detroit. In addition to regular fixed-routes, SMART offers limited-stop FAST routes along Woodward, Michigan and Gratiot. These FAST routes make getting to campus from places like Ferndale, Dearborn and Roseville relatively quick and easy. For example: The Woodward FAST bus picks up outside the Welcome Center (on Woodward at Warren). Travel time to Ferndale is approximately 30 minutes and all FAST buses are equipped with free on board Wi-Fi. View all of SMART's campus-serving routes here. (pdf)
DDOT and SMART use a shared fare system called Dart, and Wayne State subsidizes up to three 4-hour Dart passes per day for students and employees.
The QLINE Streetcar
The QLINE, operated by M-1 Rail, is a 6.6-mile circulating streetcar loop with 12 stops along Woodward between Downtown and New Center and the North End. QLINE service was suspended during the COVID-19 pandemic. Since re-launching in September 2021, the QLINE has achieved its goal of delivering service every 15 minutes 70% of the time. The QLINE is also part of the Dart fare system, but is operating fare-free through the end of 2023.
MoGo Bike Share
MoGo is Detroit's public bike sharing system and operates in 10 neighborhoods in the greater Downtown area, as well as Northwest Detroit, Ferndale, Oak Park, Huntington Woods, Berkley and Royal Oak. There are 7 stations on or immediately adjacent to Wayne State's campus:
Second and Burroughs (TechTown, I2C and I-Bio)
W. Kirby and Third (F/AB, Towers and AWD Apartments)
Trumbull and Merrick (Athletics)
Cass and Gilmour Mall (Law, Nursing and McGregor)
Cass and W. Hancock (Old Main)
John R and E. Canfield (Medical Campus)
Temple and Second (Mike Ilitch)
Designed for quick trips around town, MoGo is a fun, flexible and convenient way to get around. Wayne State students and employees can purchase a free Annual MoGo pass (regularly $90), good for unlimited 60-minute trips, by signing up with their Wayne State email at MoGoDetroit.org/WSU. 
Detroit to Ann Arbor Service (D2A2)
D2A2 is an express bus that runs between Downtown Detroit and Downtown Ann Arbor. Created by the Regional Transit Authority of Southeast Michigan (RTA) in partnership and operated by Michigan Flyer, D2A2 offers hourly scheduled trips (6:00 a.m. and 11:00 p.m. on weekdays and limited service on Saturdays and Sundays). One-way fares for $6 if booked in advance. For schedules, booking, and more information: www.D2A2.com
---
Sample Trips
Approximately 85% of students commute to Wayne State, and while many students chose to drive, there are other options for getting to and from campus. Depending on where you commute in from, you may be able to ride either the DDOT or SMART bus or QLINE streetcar. Many students, including those who drive to Wayne State, choose to use transit to get around our campus. For example, there are a number of good options for traveling between the north end of campus (Parking Structure 1) and the Mike Ilitch School of Business:
The QLINE picks up at Woodward and Ferry (a 5-minute walk from Structure 1) and drops off at Woodward and Sprout (outside the Ilitch School). It runs every 15-20 minutes.
The DDOT-4 Woodward bus picks up at Woodward and Palmer (a 4-minute walk from Structure 1) and drops off at Woodward and Temple (directly in front the Ilitch School). It runs every 20 minutes.
The DDOT-16 Dexter bus picks up at Cass and Kirby (a 4-minute walk from Structure 1) and drops off at Cass and Ledyard (a 6-minute walk from the Ilitch School). It runs every 20 minutes.
There are seven MoGo stations on or immediately adjacent to campus—including at Cass and Gilmour Mall (a 2-minute walk from Structure 1) and immediately outside the Ilitch School.
For a quick way to begin planning your trips by transit, try the trip planner on maps.google.com or download the Transit app.
---
Helpful Videos