TechTown continues to kickstart Detroit's startups, small businesses, economy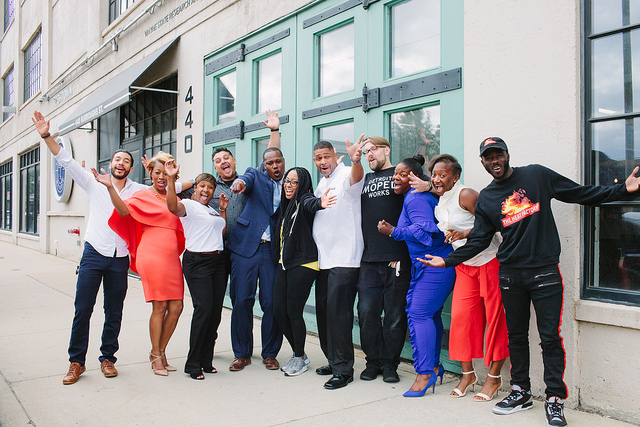 Metro Detroit saw the launch of 27 new companies and the creation 142 new jobs last year, thanks to TechTown Detroit, the university's affiliated business incubator and accelerator. In the last 10 years, TechTown has served nearly 2000 companies, which have created more than 1400 jobs and raised more than $132 million in capital. TechTown offers a range of support programs for both tech startups and neighborhood small businesses, as well as coworking, lab and office space, and a full calendar of learning and networking events. The 2017 numbers were released in the organization's annual report.
Several Wayne State student and faculty companies are profiled in the report. Functional Fluidics was founded in 2014 by Patrick Hines, an Associate Professor of Pediatric Critical Care Medicine at the Children's Hospital of Michigan. The company develops and markets specialized blood-based bioassays with the potential to identify patients at risk for blood flow abnormalities, facilitate early intervention. The company received customized support from TechTown's tech-focused Labs team.
MySwimPro, founded by Mike Ilitch School of Business alum Fares Ksebati, is a technology company that creates mobile and wearable apps that help swimmers achieve their fitness and training goals through personalized workouts, training plans, analytics and coaching. The platform has won international accolades, including being named by Apple as the Best App of the Year for the Apple Watch. The company attracted significant funding in 2017, receiving an investment from Invest Detroit's First Capital Fund, winning the grand prize in the Michigan Greenlight Business Model Competition and raising over $130k in an equity crowdfunding campaign. Following its namesake app the company launched Triathlon Tracker in summer 2018. The Apple Watch app allows athletes to record multi-sport races or workouts without touching the screen. Fares is a graduate of the DTX Launch Detroit student tech accelerator, held each summer at TechTown,
EnBiologics, founded by Engineering alums Sean Carroll and Ramy Habib, is developing a honey-based veterinary hydrogel. They recently received $50,000 from the Anderson Engineering Ventures Institute and have begun clinical trials of their product. They graduated from DTX Launch and continue to receive support through the TechTown Business Incubation Center, which provides customized support such as developing or refining a business model, technology roadmapping, financial projections and developing a funding strategy.
MicroBuoy, a team out of Wayne State's College of Engineering, earned the $40,000 cash grand-prize at the ErieHack finals in Cleveland. ErieHack was an international water innovation accelerator and competition, hosted locally by Wayne State and TechTown.
Several years ago, TechTown realized the strategies it employed to support tech startups could also serve Detroit's small businesses, helping to create jobs and community spaces in Detroit's neighborhoods and revitalize the city's commercial corridors. The organization has grown to be widely respected for its neighborhood-based programs, which include an eight-week Retail Boot Camp for businesses poised to open in a key Detroit commercial district, and SWOT City, which provides customized, one-on-one support for brick-and-mortar businesses in six Detroit neighborhoods: Brightmoor, Osborn, East Jefferson/Mack Avenue, Grandmont Rosedale, Southwest Detroit and University District/Live6.
TechTown clients who have gone on to graduate from Wayne State's Goldman Sachs 10,000 Small Businesses program include House of Pure Vin, an African American, woman-owned wine shop in downtown Detroit, Detroit Denim, a designer and manufacturer of handmade jeans with a factory and flagship store in Rivertown, and Urbanum, a home décor shop that recently opened in New Center. For the third year, several TechTown businesses will participate in the Winter Art and Retail Market, a pop-up market held in Woodward and Warren Park on Noel Night. Other TechTown businesses in Midtown include Third Wave Music, an instrument store at Forest and Cass, and the Cass Collective, a pop-up incubator featuring a rotating selection of small businesses, at Cass and Willis.
TechTown was founded by Wayne State, Henry Ford Health System and General Motors in 2000. TechTown incorporated as a nonprofit in 2004 but maintains a close partnership with the university-its president and CEO, Ned Staebler, also serves as the university's vice president for economic development. Numerous other staff, including newly appointed Chief Program Officer Marlin Williams, also serve in joint positions, enabling close coordination of the entrepreneurship programs within the university and at TechTown. Among these are the Wayne State Industry Innovation Center (I2C, formerly the NextEnergy Center), a lab, event and demonstration space where university researchers and students will co-locate with industry to work on a variety of cutting edge technology projects, and the Wayne Innovation Hub, a student entrepreneurship center in the Undergraduate Library.
For more information on TechTown's programs, visit techtowndetroit.org.