A legacy of economic impact: Looking back at the tenure of Wayne State's 12th president
While Wayne State University President M. Roy Wilson's decade of service to the university is coming to a close, the impact of his leadership will be felt for years to come. Wilson will be stepping down from his role, effective July 31, but leaves the university poised for future growth, specifically in its economic impact.
During his tenure, Wilson paved the way for a more inclusive and diverse university that made strides in research and economic development for both Detroit and the state of Michigan. His focuses during his presidency have included realigning the university's research portfolio to emphasize team science; improving campus experience; increasing Wayne State's graduation rate; and launching programs to improve the pipeline of underrepresented students.
"The fate of Detroit and the fate of Wayne State have always been intertwined, so we are in it together for the long haul," Wilson says. "It's our job to educate and prepare the workforce to meet the changing employment needs of our city. We must remain nimble to the city's needs while also staying true to our role as a place of timeless learning."
Wilson has demonstrated his commitment to that charge through many achievements and has worked closely with the Office of Economic Development (OED) to continue its mission of guiding, elevating and communicating Wayne State's annual economic impact, while contributing to an increasingly vibrant Detroit and Michigan.
Economic Development
When Wilson began his presidency in 2013, OED was only two years old; under his leadership, the office has grown to make an immense impact on Wayne State and Detroit.
Wayne State's economic impact increased to $2.6 billion during Wilson's tenure. In 2022, with his support, OED released its 5-year economic impact strategy, which follows the university's strategic plan, "Our Moment in Time." The strategy guides Wayne State's annual economic impact through 2027 and details how the university is furthering its vision for a prosperous Detroit and Michigan.
Under Wilson's leadership, the university has invested in programs that improve access to higher education and, by extension, economic opportunity and social mobility. This includes subsidized Dart and MoGo passes for all full- and part-time students through the WayneRides program.
Wilson serves as board chair of TechTown Detroit, a nonprofit business incubator and accelerator closely aligned with Wayne State and OED. In 2022 alone, TechTown served 858 entrepreneurs. With Wilson's support and the leadership of Ned Staebler, vice president for economic development at Wayne State and president and CEO of TechTown, the nonprofit and OED have grown into the largest regional economic development group in the state, supporting more than 5,300 businesses. These businesses have created nearly 2,300 jobs and raised $385 million in startup and growth capital.
"I'm incredibly proud of the work OED has accomplished during President Wilson's tenure, and I'm deeply grateful for the support he's provided," Staebler says. "Together, we've advanced OED's mission to contribute to an increasingly vibrant Detroit and Michigan with equitable access to opportunity and lasting prosperity for all."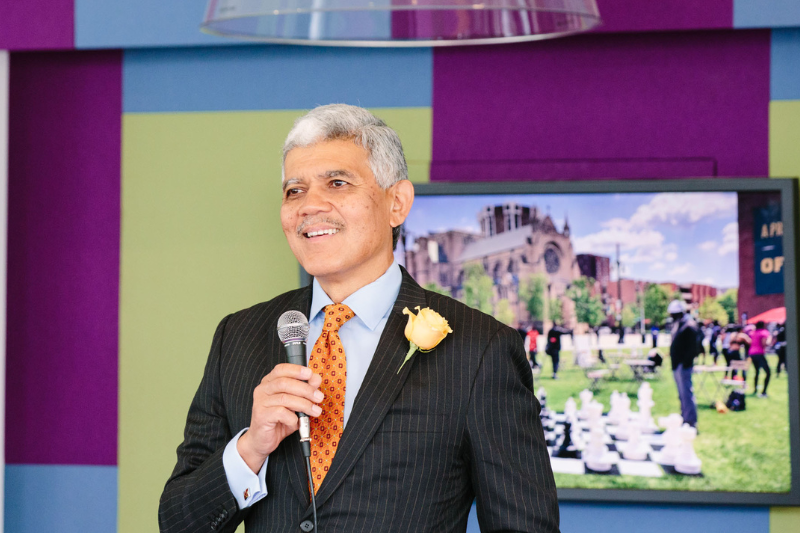 Research and Neighborhood Development
Wilson has championed research, innovation and entrepreneurship through developments for both Wayne State's campus and the Midtown neighborhood. This includes the purchase and reimagining of 461 Burroughs St. as the Industry Innovation Center (I2C), a facility used for office, laboratory and event and demonstration space by university faculty, researchers and students, as well as the TechTown community. The Office of Business Innovation and Technology Commercialization — which is responsible for the identification, protection, marketing and licensing of intellectual property developed by Wayne State faculty and staff — was also created under Wilson's leadership.
Wayne State also developed the Integrated Biosciences Center (IBio), which houses multidisciplinary research teams and initiatives focused on various biomedical challenges and eliminating health disparities in Detroit, and facilitated the redevelopment of 6001 Cass by The Platform during Wilson's tenure. Along with TechTown, these investments have solidified the northern end of the Wayne State campus as a destination innovation district, and momentum continues to grow.
"As a research-intensive university, Wayne State will continue to advance knowledge and make breakthroughs that will transform industries such as automotive, information technology, and healthcare," says Wilson.
Other signature developments in the Midtown neighborhood during Wilson's tenure include the Mike Ilitch School of Business and the Anthony Wayne Drive Apartments, a $111-million, mixed-use building with 840 dorm beds and 86,500 square feet of new retail space. The STEM Innovation Learning Center, a renovated facility that brought the university's undergraduate STEM programs into one building, opened in 2020 and offers classroom, seminar, office and instructional space.
Student Success
Student prosperity has also been at the forefront of Wilson's goals for the university. In 2022, Wayne State's six-year graduation rate reached 60.3%. This was a 118% increase from a decade ago when it was 27.6%. During that same period, Wayne State also saw significant gains in graduate rates for first-generation and Black students; the graduate rate for first-generation students was 57.7%, more than triple the 18.4% rate from a decade before. The graduate rate for Black students during that time was 39.5%, which more than quadrupled the 9.2% rate from 10 years before.
Wayne State participates in ReBUILDetroit, an NIH-funded undergraduate program to increase the number of underrepresented students pursuing scientific research. The university is also a part of the Heart of Detroit Tuition Pledge program, which helps make college more affordable for eligible students living in the city of Detroit and/or attending a Detroit high school. Other programs Wilson launched include Warrior Way Back, a debt forgiveness program that helps returning students complete their degrees, and Wayne Med-Direct, a program that funds four years of undergraduate studies and four years of medical studies for students committed to careers that eradicate health disparities and inequity.
"I hope that the university never loses sight of what matters most: the students," Wilson says. "We exist to educate and prepare students for fulfilling lives and I hope that the success of our students remains a top priority. We have made great gains in the past decade, but we still have work to do to ensure every student succeeds."
University Accolades and Looking to the Future
Under Wilson's leadership, Wayne State's efforts and impact have not gone unnoticed. Since he took office, the university has received several local and national awards.
In 2014, Wayne State became one of the first universities in the nation to be recognized as an Innovation and Economic Prosperity (IEP) University by the Association of Public and Land-Grant Universities (APLU) — a designation honoring higher education institutions that have demonstrated a commitment to economic engagement. Later in 2019, the APLU awarded Wayne State the Innovation and Economic Prosperity Talent Award, which recognizes exemplary initiatives in education and workforce development. U.S. News & World Report named Wayne State one of the top-performing schools in the nation — and the best in Michigan in 2021 and 2022 — at helping economically disadvantaged students succeed and graduate.
"I've never failed to be amazed at the talent, the spirit and the determination of our students," says Wilson. "If people are worried about the future, they should come and talk to our students."
Wilson's pride in Wayne State's students – as well as its faculty and staff – has been evident throughout his presidency, along with his commitment to learning and reflection.
"In my tenure as president, I've learned that every ending is a beginning," Wilson says. "I've learned to stay in control no matter how heated circumstances may be. I've learned our community has the grit and resourcefulness to make it through a global pandemic and come out stronger."
OED is proud to continue the economic impact work that President Wilson has championed for so many years – and to ensure that our community's grit and resourcefulness can lead to prosperity for all.