Woodward | Warren Park
About
Wayne State University has transformed its two-acre greenspace, located at the corner of Woodward and Warren, into a family-friendly public park! Woodward | Warren Park is part of ongoing efforts by Wayne State to create a vibrant, 24/7 campus and strengthen connections between our campus and neighborhood. The park builds on previous community-driven placemaking initiatives (learn more).
Park visitors will enjoy a new, permeable seating area, surrounded by native landscaping, with bistro sets and shade umbrellas, plus a custom shipping container, which serves as a welcome center, bike racks, a large mural, solar panels and string lighting to Woodward | Warren Park. The seating and shade umbrellas are available all-day every day from June through October. In 2019, Wayne State partnered with the Detroit Experience Factory (DXF) to program Woodward | Warren Park six days a week (June-October) providing visitors with games, area maps and guides, and more. The park hosted a weekly Farmers Market with fresh, local produce, plus cooking demonstrations and yoga. In addition, Wayne State coordinated special events including a (Park)ing Day activation, mural reveal and 4th annual pop-up holiday marketplace (WARM).
2020 Update: Formal park programming is on hold given COVID-19, but we are exploring ways to safely invite people to use this space. Our new sidewalk graphics are an informative and fun way to extend that invitation. They include engaging activities like a word search, an "I Spy" game and dance steps. These large graphics are 6 ft. long—a helpful visual aid for social distancing—and are located near the five bench seating areas in the park. Smaller eye-catching dot graphics on the park sidewalks (pictured) remind visitors to wear face coverings and consider bringing a chair or blanket and bottled water from home.
In addition to the sidewalk graphics, we also created coloring pages highlighting fun events in the park. Download snapshots of scenes from the WSU Farmers Market, Winter Art and Retail Market (WARM), Noel Night and more here.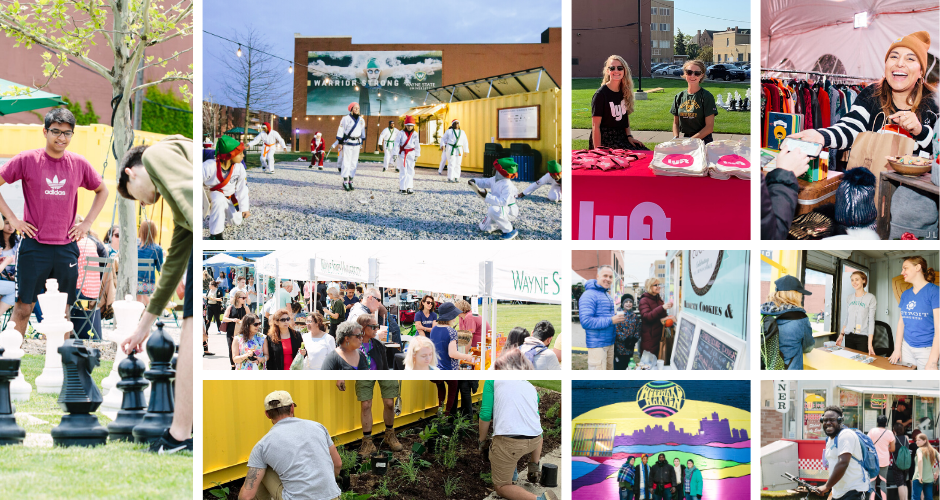 Special Thanks to Our Funders
Wayne State has raised more than $150,000 for Woodward | Warren Park improvements since 2017. Funding sources included the Community Foundation for Southeast Michigan Ralph C. Wilson Design and Access Fund and the Public Spaces Community Places program. Through Public Spaces Community Places, Wayne State crowdfunded $25,000 from 330 donors, which was matched by the Michigan Economic Development Corporation (MEDC). Major crowdfunding contributors included the Michigan Department of Transportation and Midtown Detroit, Inc.